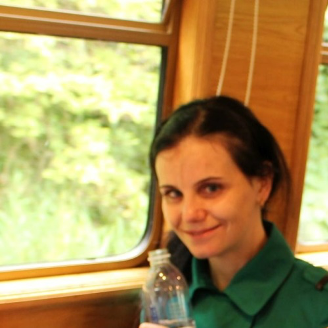 Nichola Kingsley is a determined woman!
The 32-year-old, from Blackpool, is determined never to give up, to keep working to get stronger and fitter, to be as independent as possible, and to never take anything for granted. Just over four years ago, when she was left lying in a hospital bed in Thailand, unable to speak or move, she felt scared and alone, and the only thing which kept her going was her dad phoning every day to tell her he loved her.
Nichola had suffered a brain seizure while on holiday with her younger sister in Thailand – after years of battling an eating disorder – and ended up in a coma. Her family had to rally round for two months, raising the £30,000 needed to bring her home to the UK, and she spent the next two years in hospital. Nichola had to learn to walk and talk again, and she is still working on her strength and physical fitness. She has gone from having to walk with a three-wheeled walker at all times, to being able to walk short distances on her own, and now doing her own personal care, cooking and cleaning after having to rely on carers.
Nichola said: "Telling my story in my home town of Blackpool is the hardest thing I've had to do. But I want to try to help others, to inspire others and help show people determination can get you through the hardest days. I can say now I am happy. This the first time I have really been happy since before my mum died. Before my acquired brain injury, I was a happy young woman with a great job. I was a top sales girl, earning plenty of money, and made enough to buy my own house. But I have a mental disorder when it comes to food – and it rules your life, just the same as anyone who uses drugs or alcohol – and it completely takes over your life. This began around 14 years old, as I was picked on at school and called fat.
I tried every diet in the book, and took laxatives, and so on. I tried everything I could to slim. I wasn't happy until I got to six stone. My mum died just after my 18th birthday, which didn't help matters, as I was a mummy's girl and my addiction just intensified to the extent I ended up in an eating disorder clinic where they forced me to eat until I reached a healthy weight of eight-and-a-half stone."
But Nichola fell back into her old eating habits and collapsed when on holiday in Thailand, suffering a brain seizure. At one point, doctors did not know if she would pull through, or survive the flight home to the UK.
After months in intensive care, she had to spend more time in an eating disorder clinic, then be transferred to a rehab centre in Preston to learn to walk again, talk and do all the things most people take for granted.
Nichola said: "It was a terrible time, and I just used to lie there and think 'is this really happening to me?' I could hear people screaming in pain, and I just used to hug my pillow and cry. After two years, I finally got discharged back to my own home – I had worked so hard for it – and waking up in my own bed, finally, was the most amazing thing in the world."
Nichola has thrown herself into her rehabilitation, attending the gym and fitness classes at the De Vere Village Herons Reach, Blackpool, which have helped her build up the strength in her muscles and given her goals to focus on. Her dad, Mike Kingsley, sees her every day, taking her to the gym and lunch. Nichola has also been helped by the charity Headway Blackpool, Wyre and Fylde, which helps those with acquired brain injuries and their families. She said: "I am getting stronger by the day and my dad is my rock. Each day I give myself a goal and am not happy until I reach it. I know I will never be 100 per cent back to how I was, but I am giving it a good go. I know I am lucky to be alive. My brain injury has made me realise you must enjoy every minute of every day, no matter how hard things are. You must stay focused, keep fit and eat healthy."