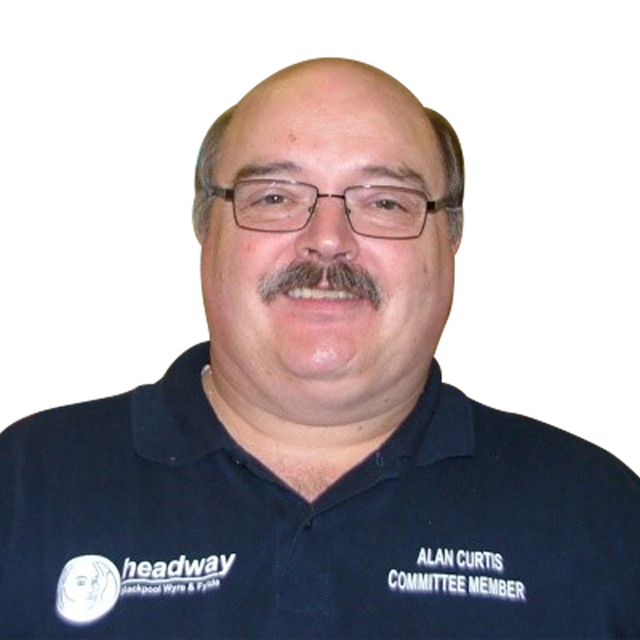 A Member's Story – Alan Curtis 
My story begins with a journey to my local GP, I had lost most of the hearing on the left-hand side. Thinking it was just blocked with ear wax I was very surprised when my GP referred me to the audiology department at Blackpool Victoria Hospital.
After various tests the specialist told me my ear was clear and wanted me to go for an MRI scan this I attended and I knew something was not right when I saw the control room staff rushing up and down.  They told me that the results would be sent to the specialists and he would contact me in due course.
True to their word a week later I was called back to the hospital. The specialist went on to explain that the scan had revealed a large vestibular schwannoma (acoustic neuroma) a benign tumour that grows round the audible nerve and as it gets larger it does two things, firstly it affects your hearing and secondly as it gets bigger it pushes against your brain stem and if left it would have ultimately killed me.
With this news I was referred to Salford Royal Hospital where the various options were given to me I had a choice of full surgical removal or a treatment using a high burst of concentrated x-rays known as the gamma knife. However, given the size of my tumour there was a significant risk that this method could not be used because it causes the tumour to swell further and this would push further onto my brain stem.
The operation date soon arrived and a credit to the Salford Royal Team I was so relaxed I forgot I was about to be operated on and had not said goodbye to my wife so in hospital gown I was allowed back into reception to say goodbye.
After 12 hours of surgery I was finally woken. When my eyes opened I was looking into the eyes of an Angel my first thought was that didn't go as I planned! But as I slowly came around I realised it was one of the surgeons (but she is still my angel!).
I was admitted to the ward where after the first day the doctors were a little concerned at my lack of balance and poor left side coordination this continued for three weeks where the doctors carried out various tests to try and work out what was going on. After three weeks I was discharged to Blackpool Victoria.
Despite the fact I still could not walk without a Zimmer frame and support I was out of there like a tortoise.
After a week at home and no physio support my wife contacted the GP who arranged for the community brain injury support team to come and see me.
Wow what a team they are the most dedicated patient and helpful persons I have ever met. Within weeks they had me standing – granted I wobbled but I was upright. Then the physio asked me had anything happened during the operation my response being 'I don't know I was asleep!'.
As I was visiting Salford later that week she gave me a letter to give to the surgeon this I did and after he had read it he informed me that a bleed had been found in the bed of where the tumour had been.
The result was that they had stopped the bleed but it had left me with a stroke hence the slow recovery.
Armed with this information my physio and occupational therapist set to work on me and with in a short while I could walk round the house using the furniture and then they gave me a four-wheeled walker and showed me how to walk again I will always remain in their debt.
But it did not end there, I was short tempered and in truth really horrible with my wife (just one of the effects of brain injury) again the brain injury team came to my aid this is where I met a neuropsychologist who worked with me and my wife to teach us both coping strategies and to turn me into 'the new me'.
They advised us to go to Headway which we finally did.  We arrived not knowing what to expect but within a very short while we were introduced to the other members of the group, what a surprise there were people there who were worse than me and many the same as me. Most importantly to me, it was like talking to a brother or sister – everyone was so friendly. I have found the group a fantastic support because we are all treated as equals, everybody has gone through a similar situation and when you are down you see members who are far worse than you just getting on with life you realise your problems are only minor. As time went by I felt it was only right that I give back to the group, I finally volunteered to become a member of the committee and I love supporting the members and giving back to this valuable cause.