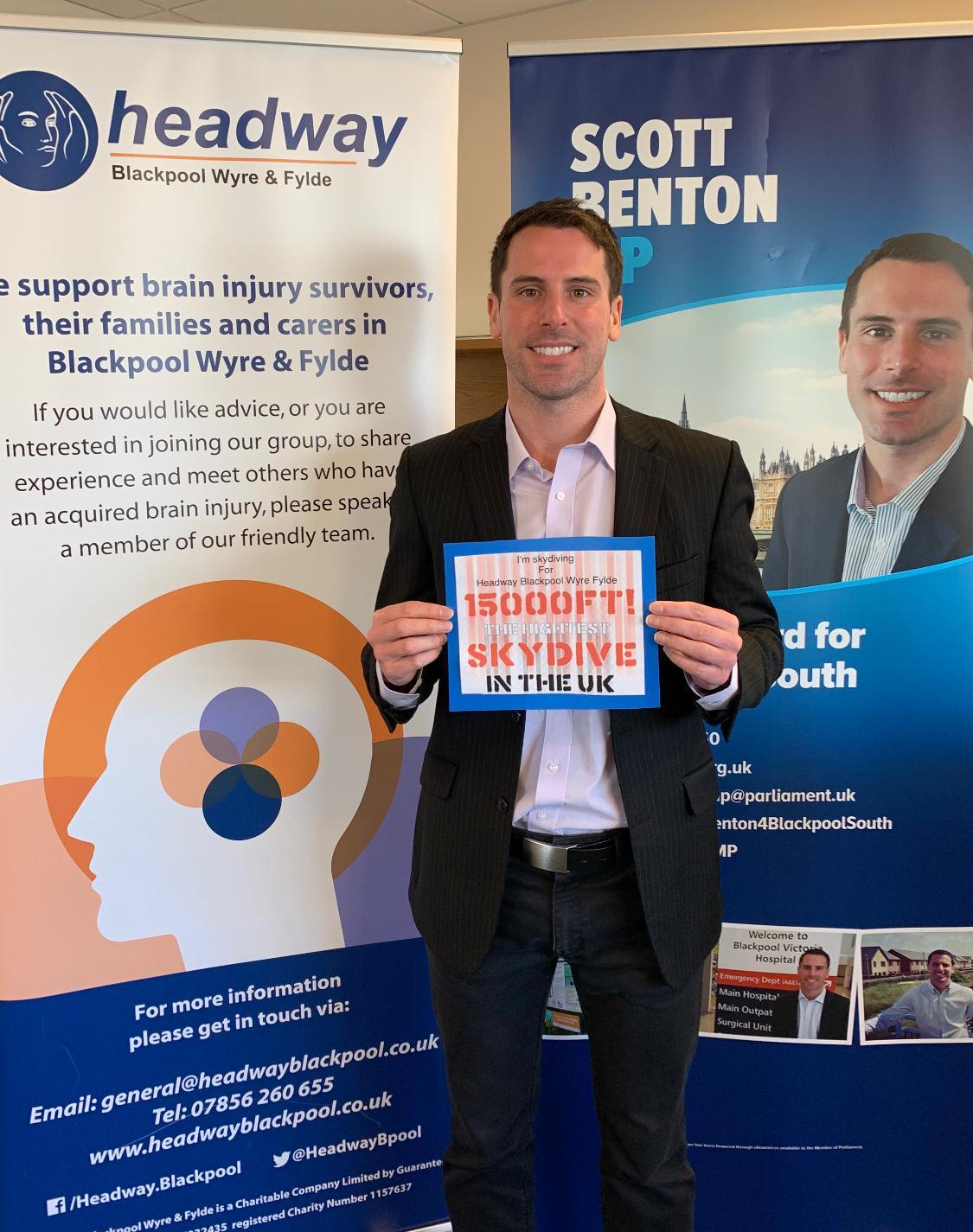 Despite his fear of heights Scott Benton MP will be joining with other local fundraisers to take on an epic skydiving challenge for charity!
This September he will be jumping from 15,000 feet – that's almost 30 times higher than Blackpool Tower! All to raise much-needed funds for local Charity Headway Blackpool Wyre and Fylde.
Scott said: "Headway Blackpool Wyre and Fylde is passionate about helping and supporting local people who have suffered an acquired brain injury. 
I'm going to conquer my fear of heights and raise awareness and as much money as possible for this great local charity."
Sam Ashcroft, Network Coordinator at Headway Blackpool added: "We are delighted that Scott has agreed to join our team of skydivers who will all make the big jump in September this year. His support means the world to a small charity like ourselves.
The pandemic has hit our charity very hard; we rely on generous donations and fundraising events to raise the money we need to run our services. Being unable to hold any face-to-face events last year and quite possibly the greater part of this year means our budgets are critically low.
We hope with Scott on our team we can raise awareness of our services and help more people across the Blackpool region who live with brain injuries."
Headway Blackpool provides information, support and social activities for people suffering from acquired brain injuries and, in addition, offers support to carers, family and friends.
Importantly, it allows people to share experiences knowing that the group of members understand some of the problems and difficulties that acquired brain injury brings.
To donate to the challenge, go to: www.gofundme.com/f/scott-benton-mps-skydive-for-headway-blackpool