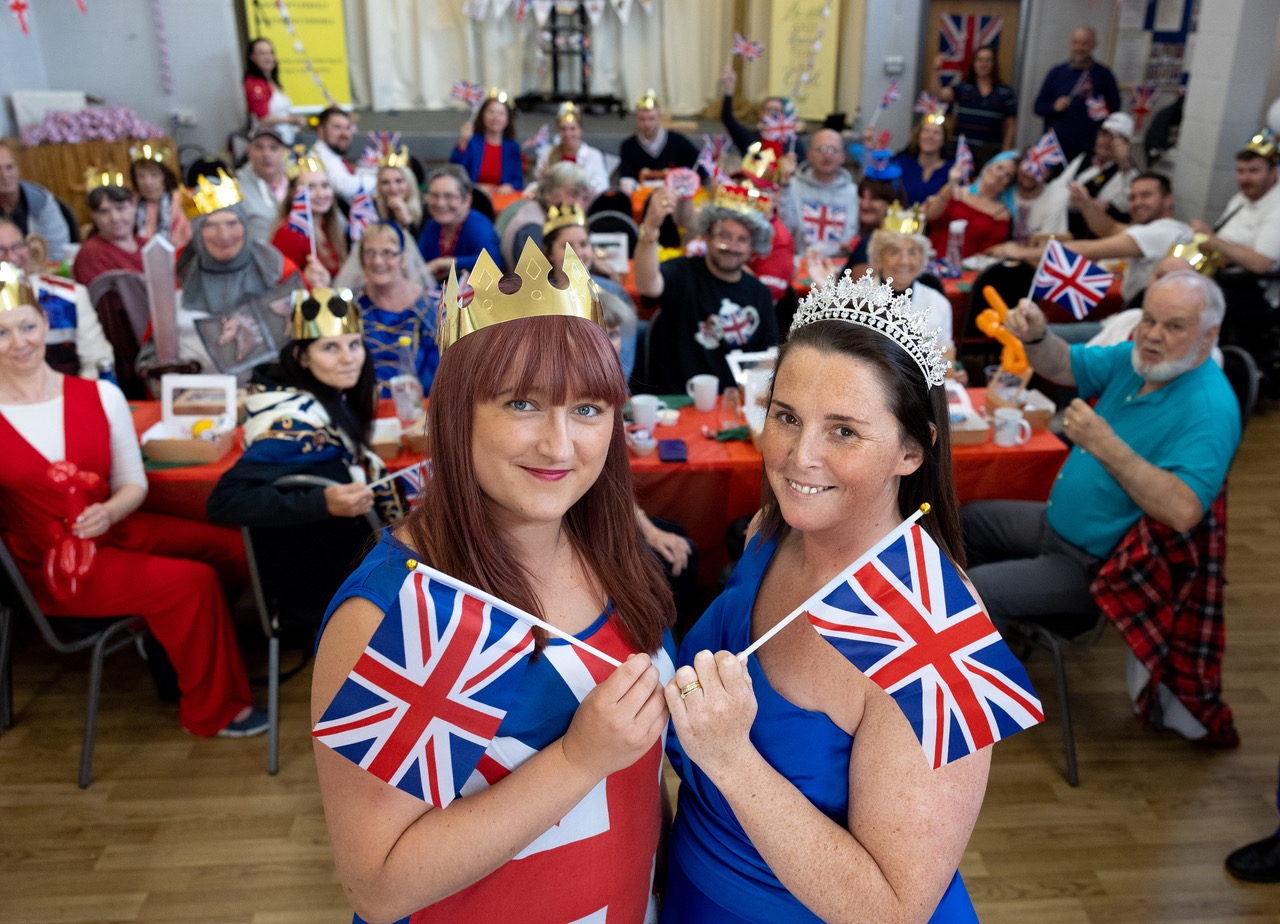 The flags were flying and the fancy dress was regal as members of brain injury charity Headway Blackpool Wyre and Fylde celebrated the Queen's Platinum Jubilee this week. More than 70 people living with brain injuries, their carers, friends, families and volunteers enjoyed a very special Afternoon Tea courtesy of Lancashire law firm Vincents Solicitors.
Members came together at their regular meet up spot, The Freedom Centre in Mereside's Langdale Road, on Tuesday afternoon. Many went to town with their outfits, sporting everything from bejewelled crowns and snazzy ties, to Union Flag themed t-shirts and full-on royal regalia. There was even a King Henry the Eighth, a St George, and a couple of medieval queens in attendance.
The Vincents team served up a treat for the group as part of the firm's year-long partnership with the charity. Staff manned the kettle, joined in the bingo, danced along with their new friends, and provided Afternoon Team boxes packed with goodies such as Jubilee Cupcakes and traditional scones with jam and cream.
The decorations were provided by members themselves who had made bunting and crowns, while local singer Lucy Williams wowed the crowd with pitch perfect renditions of some classic favourites.
Sam Ashcroft, community network manager for Headway Blackpool, Wyre and Fylde, said: "We've had a brilliant time, members, carers, visitors, volunteers, it's been one of the best events we've ever held.
"It would not have been possible without Vincents funding the Afternoon Tea and helping out on the day. Lisa and her team have been so supportive over the last few months, helping out practically and financially, and making friends with our members, it really does mean so much to us.
"One of the most important things for the charity is providing members with fun, sociable activities where they can meet up with friends, and where their carers can get some time to relax as well. Everyone has been looking forward to this for weeks and it's even attracted some new members to join and who can now start benefitting from our support."
Vincents' director Lisa Lodge, head of the private client team, was among the volunteers, and was thrilled to be asked to present prizes to the fancy dress winners. She said: "What a wonderful day it's been, the members have had a fantastic time and we're so impressed with the fabulous outfits. Everyone looked great but it was nice to give out some prizes for the 'best dressed'.
"In third place was Hannah, whose brilliant blue wig and Union Flag face paint earned her a box of chocolates. In second place, and winners of the amazing Crowned Pork Pie made by the very skilled Robert, were St George and his lady otherwise known as June and Sterling. And in first place, picking up vouchers for a meal at the Belle Vue courtesy of landlord Aaron Johnston, were our very own Tudors Angela and Keith."
Amy Whiteside, a Vincents probate specialist is volunteering weekly with colleague Zak Croft. Amy said: "We've had such a lovely time today, it's been a great start to the Bank Holiday celebrations. Zak and I are absolutely loving coming down to help out with the group every week and it was lovely to introduce our colleagues to our news friends here."
Headway Blackpool Wyre and Fylde provides weekly activities for people who have suffered an acquired brain injury through accident, assault or illness, and a support network for their carers. The charity also provides advice and advocacy for members who need guidance to access the right legal, financial and medical help. The Blackpool branch relies on the support of volunteers and one part-time member of staff, and funding by donation.
For more information about the charity contact Sam on sam@headwayblackpool.co.uk
Headway Blackpool, Fylde and Wyre meets every Tuesday from 1.30pm to 3.30pm at the Freedom Centre, 8 Langdale Road, Mereside, Blackpool FY4 4RT.
For all the pictures from the day see the gallery here.